Reflexology

History of Reflexology
Reflexology has been practiced for many years and cave drawings have been discovered in Egypt, thought to depict a treatment taking place, dating back to 2350 BC.
The treatment was studied in 1913 by Dr. William Fitzgerald, who found that patient's recovery time was shortened when they received Reflexology.  The method was further developed and refined in 1930 by Eunice Ingham, when all the major organs were "mapped" onto the corresponding zones of the feet.
Benefits of Reflexology
Following illness, stress, injury or disease the body can be in a state of "imbalance" and vital energy pathways are blocked preventing the body from functioning effectively. Reflexology can be used to restore and maintain the body's natural equilibrium and encourage healing. It can be particularly effect during the Menopause.
A typical treatment sees the client reclining in a comfortable position when the feet are cleansed and massaged to warm them, before gentle but firm pressure is applied working over the whole foot. Many people are so relaxed they drift off to sleep and awake feeling calm and rested. Just one treatment can produce noticeable results but maximum benefit will be gained from regular sessions.
Maternity and Fertility Reflexology
I have attended an advanced Maternity Reflexology course and also a Fertility Reflexology Workshop, looking in depth at how Reflexology can be used to assist couples trying to conceive as this is an area that I am particularly interested in. I am a member of the Fertility Reflexology Network. As part of a combined diet and lifestyle strategy Reflexology can help improve the chance of conception. I have completed a diploma course in Diet & Nutrition and can advise of dietary changes that would be beneficial.
Throughout pregnancy Reflexology can help with unpleasant conditions such as backache, headaches, nausea and insomnia without the need for medication, which would be best avoided.
Some small trials carried out in Sweden seem to indicate shorter, less painful and "on time" labours following a course of Reflexology treatments.
Reflexology can help with many conditions:
Stress and tension
Acute and chronic conditions
Sleep disorders
Fertility problems
and many more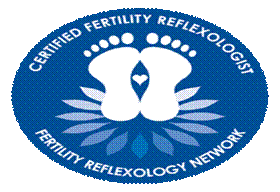 Convenient for Wheathampstead, Welwyn Garden City, St Albans, Redbourn, Kimpton, Slip End, Codicote, Lemsford and Luton